高濃度左旋C精華液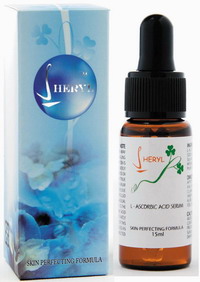 高濃度左旋C精華液
L-ASCORBIC ACID SERUM 建議售價: NT 1680 元
左旋維他命C對皮膚益處的卓越發現
左旋維他命C是強而有效的抗氧化劑,促進膠原蛋白增生和淡化細紋,長期使用有助於改善肌膚,使皮膚光滑恢復活力。
A lightweight, oil-free, aqueous solution containing a high concentration of Active-C Complex ingredients, plus bioactive collagen protectors.
Benefits
High levels of L-ascorbic acid, coupled with powerful anti-oxidant protection make this formulation the most important skin saving product in your daily skincare regime.
Regular use may dramatically reduce the visible signs of aging—fine lines, wrinkles, age spots and sagging skin.
Helps increase the elasticity and resilience of the skin to greatly reduce the appearance of lines and wrinkles.
Treated skin will gradually appear firmer and smoother with improved texture, tone and overall radiance.
For those with sensitive skin types, use this formulation with our Sheryl Crystal Essence. Together used, Active-C is extremely well tolerated and can be used by the majority of people without fear of troublesome skin reaction that may occur with other skin smoothing preparations.
衛署粧廣第 9510116 號
此分類裡目前沒有文章。